COMECA were 'Runners Up' which was great recognition for the whole of the team involved from the start some 7 years ago, preparing the tender, designing and qualification of the equipment and the Project management.
The Hinkley Point C (HPC) Awards ceremony takes place every year and it is an opportunity for New Nuclear Build (NNB) to recognise outstanding contributions and celebrate successes throughout the year. COMECA were nominated in two categories – 'Most Collaborative Team' and 'Best International Supplier'. We were then shortlisted as Best International Supplier along with four other companies. To reach this stage the panel had over 400 nominations to consider so this was no mean feat to reach the final stage!
COMECA were nominated by NNB Project Management/Commercial team and highlighted the reasons for being put forward:
Team cohesion and fully collaborative approach to manage problem solving/changes/implementation of new reporting procedures
Excellence in managing the Civil interfaces with BYLOR for installation of Switchgear/Transformers Management of and relationships with key stakeholders of UK 5111 contract – Edvance/Hitachi ABB/Vertiv.
Technical optimization of products and management of factory interfaces.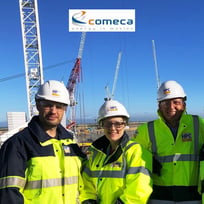 "It was a bold, ambitious decision from the Comeca Board to set out on a journey to win HPC and invest in a project which is now a 'global shop window' for other EDF EPR nuclear targets of which Sizewell C is the 'next of a kind' and others will follow around the world so we must learn and improve as we continue along the road to a successful completion of HPC.
Nick Bull – COMECA HPC Project Manager "
"At its core, Supply Chain is the fulfillment of the promise made to the customer through all means and functions of the company
The HPC project started for COMECA in 2017. It has required the full involvement of all functions within our company: Sales, Design Office, Project Management, Purchasing, Supply Chain, Production, Finance, Human Resources and Quality in France and abroad, and as well our many external partners, among which our suppliers, whom we have involved very early on this project.
This recognition on behalf of our client is the crowning achievement of the considerable work that has gone into questioning our entire Supply Chain, improving to become more efficient and achieving operational state-of-the-art. Because of its size for COMECA, the HPC project has allowed our company to change scale and establish itself as a major partner in Energy Management and Distribution Solutions for highly technical applications.
The HPC project to build 2 new generation EPR reactors at the Hinkley Point site in the UK is a major project for Europe industrial footprint for the new decade. At the cutting edge of technology, it will supply 7% of the UK's electricity needs through a stable, safe and carbon neutral energy.
Olivier DIETLIN – COMECA Global Sourcing and Supply Chain Director"
Comeca congratulates and thanks all the people who contribute to this project in France and abroad as well as its partners.