Why it is it not imperative to change an obsolete low voltage switchboard?
In a world increasingly sensitive to a respect for the environment your priority should be to extend the life of your electrical equipment. Extending the lifespan and improving the performance of your electrical switchboard requires the extension and progressive renovation of your equipment. These solutions must respond to the twofold concern of reducing your investment costs and your waste, thereby reducing your environmental impact.
Can your obsolete Low Voltage switchboard evolve?
If your Low Voltage switchboard is still maintainable, without risk to the operation, and you still have spare parts. It is then possible to upgrade or renovate this Low Voltage switchboard!
You can make it evolve without risk in several ways:
addition of extra outgoing circuits
addition of extension columns
retrofit/refurbishment of functional units
Does the manufacturer still manufacture the functional units?
If this is the case, good news: it is not mandatory to change your obsolete Low Voltage switchboard. There are several possibilities to make this electrical switchboard evolve: adding columns or adding new feeders. However, there are several Low Voltage switchboards for which it is no longer possible to obtain new columns but for which the manufacturer still ensures the manufacture of new feeders according to the original design.
The new feeders remain 100% compatible with the existing switchboard: interchangeability of starters of the same calibre is possible.
Find the possible extensions on our equipment in our page dedicated to the Comeca group's LV and HV switchboard extensions.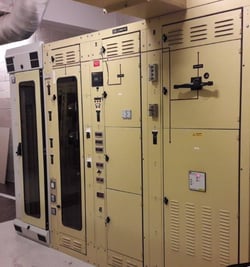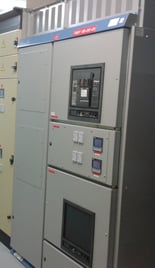 Photos: examples of extension with TITAN and Galaxis columns.
To confirm this feasibility, you will need to provide the manufacturer with certain information such as:
The type of switchboard
The order number
The number of the drawing or master plan
This information can be found on the type plate or on labels affixed to the feeders:

Example of a Comeca label to identify Low Voltage switchboard
Can the obsolete Low Voltage switchboard be extended by means of an adaptation?
Maybe your obsolete Low Voltage switchboard no longer meets your needs but there is still a solution to consider before changing it! The extension is possible with a new technology in compliance with the IEC 61439-2 standard which defines the design rules for Low Voltage switchboard to respect the safety of people and property, quality and reliability. This solution allows the addition of columns with new functional units on different types of switchboards.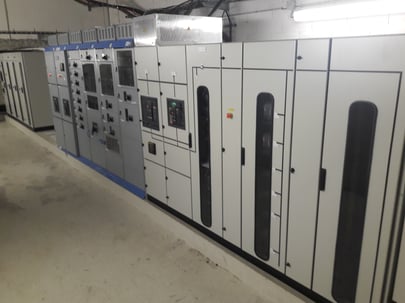 Photo: extension with Galaxis type adaptation on an obsolete switchboard
The steps to be able to carry out this extension are as follows:
Take measurements on site with your Low Voltage switchboard switched off (duration 4 hours).
Launch a design study for an adaptation cell
Manufacture the adaptation cell
Factory acceptance of the adaptation cell with extension columns
Install on site with your Low Voltage switchboard switched off (duration 8 hours).
Assist in the commissioning of the Low Voltage switchboard
Your electrical panel is no longer sufficient to cover your needs and you want to upgrade it? Find some advice in our article dedicated to space requirements and extensions:
Can the obsolete Low Voltage switchboard be renovated?
Low Voltage switchboard are designed to last and to ensure their operators continuity of service over many years. This makes their renovation possible and sustainable. The addition of extension columns is also a means of gradually renovating your switchboard through the installation of new functional units. You will thus be able to gradually transfer your obsolete equipment to new functional units.
Anticipate the obsolescence of your Low Voltage switchboard thanks to maintenance! Find the
.
Renovating the Low Voltage switchboard as you go along by adding extensions
Prolongs the life of your electrical switchboard
Spreads the renovation expenditure over several years
It is still possible to add a functional unit or a column
Renovate obsolete elements
Gradual transfer of consumers to the new functional units installed in the extension columns
In summary
Changing your obsolete Low Voltage switchboard is often the solution chosen when it comes to upgrading it. But other reliable and more environmentally friendly solutions exist: extensions of feeders or columns or even the renovation of the equipment of which it is composed. It is a choice, when possible, that is more ethical and economical.