Comeca is taking part in a modernisation project of HVAC equipment
Comeca has been selected by a large passenger transportation company to conduct a study campaign on technical improvements to HVAC equipment in rolling stock for suburban and railway networks. This campaign aims to address increasing environmental concerns and the resulting regulatory changes.
Implementation of a technical modernisation solution to reduce the environmental impact of air treatment and air conditioning equipment.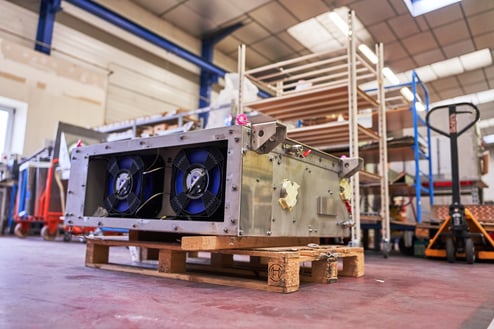 This modernisation program targets a fleet of several hundred self-propelled trains in operation, which represent several thousand air treatment and air conditioning equipment.
The project was entrusted to Comeca in April 2021 and will span several years. The program consists of a phase of evaluation and acceptance of experimental solutions that affect several pieces of equipment. The project starts with testing to reproduce the characteristics and performance of each type of equipment in its original technical configuration. It then continues with the implementation of new technical solutions and testing to validate final performance.
The program initiated by the client has a major environmental dimension. Indeed, the types of refrigerant fluids used in refrigeration circuits are at the heart of air treatment equipment. These fluids are artificial gases composed of different types of chemical molecules. They are chosen to ensure adequate pressure and high heat absorption capacity in the thermodynamic operation of an air treatment equipment.
However, some artificial gases used, such as hydrofluorocarbons (HFCs), can contribute to the increase in the greenhouse effect and the rise in temperatures currently observed in the event of leakage in the refrigeration circuit. The different gases in the atmosphere (carbon dioxide, methane, nitrous oxide, etc.) do not have the same impact on the greenhouse effect and its climatic consequences.
The more or less harmful contribution of each greenhouse gas (GHG) is determined by its global warming potential (GWP). The refrigeration, air conditioning, and heat pump sector uses the F-Gas regulation to establish progressively reducing targets for the use of fluorinated refrigerant fluids (HFCs), depending on their warming potential and equipment and application categories.
Modernisation of Rolling Stock for Railways: Validation Testing of Refrigerant Fluids for HVAC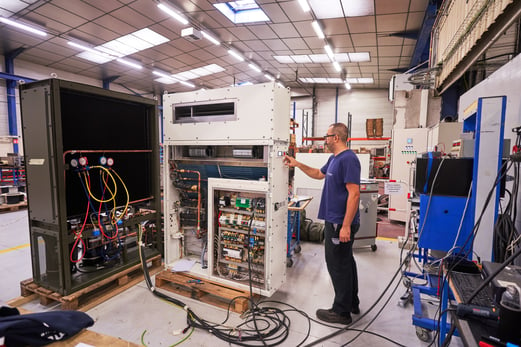 Comeca's industrial site in Saint-Quentin-Fallavier, specialising in the railway industry, conducted several validation tests of refrigerant fluids for HVAC systems on AGC type EMU trains, in accordance with the new F-Gas standard. These tests aim to reduce greenhouse gas emissions and optimize the use of refrigerant gases. An EMU, or electric multiple unit, is a multiple-unit train consisting of multiple carriages with self-propelled propulsion systems, which do not require a separate locomotive. These propulsion systems are powered by electricity drawn from overhead lines.
The experimentation of new solutions on air treatment equipment and the results achieved confirm the client's confidence in the viability of its railway rolling stock modernisation program.
Key dates of the project:
April 2021: Notification by the client of the contract for the technical modification and performance validation of "Air Treatment - Air Conditioning" equipment using a new refrigerant that is more environmentally friendly.
May to August 2021: Technical modifications and realisation of aeraulic tests and climate chamber tests on equipment intended for passenger rooms of the train.
August to November 2021: Technical modifications and realisation of aeraulic tests and climate chamber tests on equipment intended for the train driver's cabins.
December 2021: Validation by the client of Comeca's reports on the conditions and results of the tests