Do you want to extend the life of your switchboard without fully replacing it? Retrofit is a solution to replace obsolete or defective equipment parts and components while maintaining equipment and the original functional unit characteristics in your electrical panel.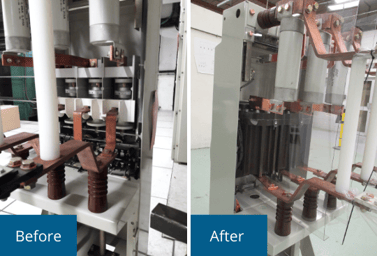 At COMECA, we offer "Original Equipment Manufacturer" retrofit solutions when we operate on our solutions. We offer you retrofitting other manuifacturer brands that are part of your equipment fleet. Our retrofit solutions renovate drawers, circuit breakers, GemStart communicating protection relays version 1 to 4, MAC & SI type signalling cards, PLCs and other non-manufacturer elements of your switchboards.
By choosing a retrofit solution, you give a second life to your switchboard and extend the service life of your electrical installation.

Picture: Example of a vacuum contactor by a Rollarc 400 retrofit
Retrofit benefits:
Maintains characteristics of the original switchboard
Guarantees continuity of service
Investment control
Increases the level of security
Limits production stoppages
Increases reliability by reducing failures risk
Limits emergency interventions
Modernise equipment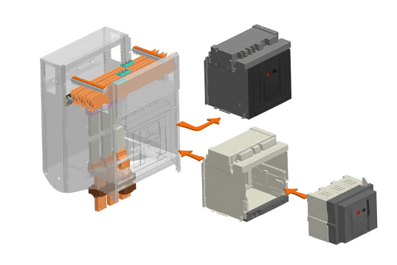 Equipment maintenance

: circuit breaker retrofit

Our specialists developed retrofit kits to migrate to new generations of circuit breakers by mastering modification studies on your low-voltage switchboards. Examples: circuit breakers from the C800 to C1250 range, CNP, Masterpact M series, M-PAC and Otomax, etc...
Retrofit implementation:
Planned intervention with operating mode
Controlled downtime: factory-made solution
Maintain employee protection
Installation and testing according to manufacturer's procedures
Commissioning with COMECA technician's assistance

Equipment maintenance

: drawer retrofit

Retrofitting a drawer consists of replacing the old one whose equipment became obsolete. Often we have to change the entire drawer to keep the correct elements arrangement. In this way the drawer is a tested unit that complies with the requirements of the standard. Modernise a part in the drawer brings changes in the elements layout and sometimes it is not possible without change the other elements too.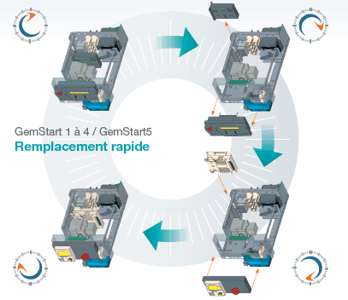 Equipment modernisation: motor protection relay GemStart retrofit
We provide compatible solutions with all GemStart version. GemStart5 embeds same communication protocols as previous versions wich facilitates updates and allows you to keep existing networks. Thanks to our manufacturer know-how we developed a retrofit solution named GemStart5-R allowing you to replace old GemStart version (1, 2, 3 and 4) by the last version GemStart5.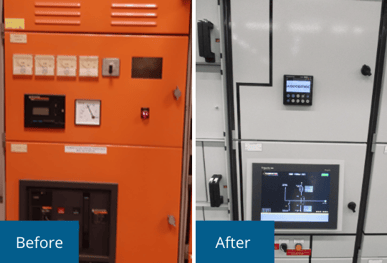 Modernisation

: needle equipment retrofit

This modernisation consists in replacing needle-based equipment such as voltmeters and ammeters with a communicating measurement centre:
Digital display and small footprint
Obtaining additional information such as power ratings, harmonics measurement, power grid quality, etc.
Remote monitoring of your energy consumption
Modernisation: obsolete PLC retrofit
Retrofitting of a traditional source changeover relay with the automatism integrated in the protection relay, an example with SEPAM.