In rail transport it is crucial to ensure the thermal comfort of passengers and drivers while optimising the energy efficiency of the heating, ventilation and air conditioning (HVAC) systems of the rolling stock.
It is therefore important to carry out revisions of the cabin and passenger air conditioning systems to meet market requirements and to ensure the optimal and continuous well-being of passengers and drivers. Modernising the on-board HVAC systems of overhauled trains extends their life and improves their efficiency.
Mid-life revision of Lyon's Citadis tramway sets
After 20 years of service, 47 Citadis trams in Lyon are undergoing a major mid-life overhaul. This major project, entrusted by SYTRAL, consists in particular of modernising all 188 on-board HVAC systems, comprising 94 cabin air-conditioning units and 94 passenger air-conditioning units.

The modernisation of the trams will extend the life of the trains by about ten years. This means that the trams can be operated until 2040. Source ALSTOM (French only)

This renovation project will include:
Upgrading and improving the roof top air conditioning systems
Replacement of interior and exterior lighting, seat cushions, handrails, floors and flooring
The installation of colour contrasting handrails and PRM areas, new side displays, door openers, audible announcements, hanging seats to comply with the latest standards for accessibility for people with reduced mobility.
Comeca, expert in specific solutions for thermal engineering
Our HVAC expertise and production site located in Saint-Quentin-Fallavier has been chosen by Alstom to study and upgrade the on-board air conditioning systems for this major renovation of the Lyon tramway.
Comeca designs, qualifies and manufactures cooling and electronic equipment operating in severe environmental conditions, mainly for the Nuclear, Railway and Military markets.
For many years, we have been a supplier to Alstom for on-board cabling activities (Harnesses, LV Boxes, Control Panels and Services). For this project, Comeca is the original designer of the air conditioning systems to be revised.
The strengths of Comeca's solutions and expertise:
We have our own climatic test platform to simulate a severe environment.
Our efficiency improvement solutions have already been tested in operation in Lyon on a trial train.
Our technical experts have used their experience gained over several years with rail network operators such as KEOLIS Lyon to improve our air conditioning systems in terms of energy efficiency and maintenance assistance.
Optimised energy performance and easier maintenance
For the renovation of the Citadis tramway in Lyon, Comeca worked on optimising the energy performance and efficiency of the air-conditioning units and on reducing the intervention time of the maintenance teams thanks to preventive maintenance. We also carried out a complete update of the control system.

As some components had become obsolete, our teams will develop a new design based on a new technology for the Control/Command portion and qualify this new solution on the first prototype trains. We have also added an ethernet communication system in order to give the driver the possibility to change the temperature set point from the control panel.

Our R&D teams will also optimise cooling and heating performance by providing more precise management of the control loops according to the actual occupancy of the trains, measured by C02 sensors, and by optimising the supply of fresh air from outside.

We will also work on the distribution of air flows in order to improve the sensation and feeling of comfort for passengers. The air filtration system has also been developed to optimise the barrier to particles and bacteria in order to limit the spread of viruses.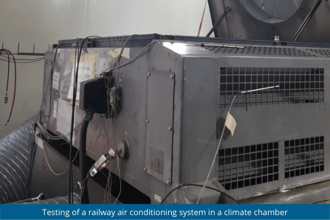 The prototypes designed will then be tested in a climatic chamber on our Saint-Quentin-Fallavier test platform in order to validate the excellent thermal and energy performance of our systems over the entire ambient temperature range.
They will then be delivered at the end of 2021 to Alstom La Rochelle for assembly on the prototype train, which will be tested in dynamic mode in accordance with the "operating" mode.
Once validation has been obtained, we will begin series production at a rate of one train every 3 weeks with a Noria-type rotation with the Alstom Belfort industrial site selected for production and project management.
In Summary
The renovated Citadis tramway trains in Lyon are scheduled to enter service in spring 2022. This modernisation project will extend the service life of the trams by around ten years and will provide optimum comfort as well as improving the availability rate in commercial service.
We are proud to be involved in this major project to overhaul Lyon's tramways and we would like to thank our partners ALSTOM, Keolis Lyon and our client SYTRAL for their confidence.