Launch of the first Comeca Academy promotion
At the beginning of September, Comeca launched the first class of students preparing for the BTS (Advanced Technician Diploma) in Industrial Maintenance in collaboration with the Institut Régional Universitaire Polytechnique (IRUP). The work-study programme aims to train and integrate senior maintenance technicians into Comeca's teams. The students will work at several production sites : Saint-Quentin-Fallavier, Le Mans and Châtenoy-Le-Royal. (France)
Comeca and IRUP: a partnership to train the future generation of higher technicians in industrial maintenance
On 24 October, Soufiane AITAMARA, Comeca Services Business Director and site manager, hosted the programme's integration seminar at the Saint Quentin Fallavier site. This day allowed this first cohort of students to meet and discuss the individual and collective projects that they will carry out during these two years.

The programme for the students during the 24-month sandwich course includes periods of in-company training at the Comeca sites in Saint-Quentin-Fallavier, Le Mans and Châtenoy-le-Royal, and periods of theoretical classes taught by experts in the industrial field at the IRUP in Saint-Etienne. The course prepares students for a diploma at the level of Brevet de Technicien Supérieur.
A seminar built around a number of key moments
A presentation of the Comeca group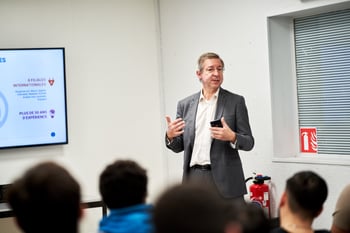 Gaël Dutheil De La Rochère , president of the group, and the human resources team took the floor to present the company, its history, its values and its various activities in France and abroad. It was also an opportunity to present each production site as well as their specialities and historical know-how.
A safety initiation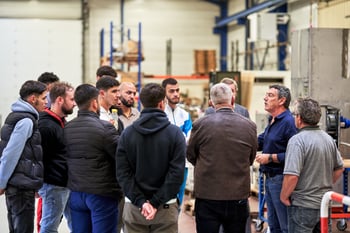 The safety initiation, held in the presence of Soufiane Aitamara, the site manager, enabled the students to grasp the importance of the fundamental rules of safety in the industrial field: rules to be respected on the production site, on customer sites, use of personal protective equipment, etc.
A visit to the production site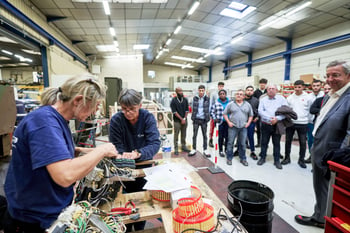 This visit was an opportunity for the students to discover the factory in Saint-Quentin-Fallavier, which specialises in HVAC for the railway, military, nuclear and airport sectors. They were able to talk with the various employees and discover the many industrial trades and skills involved in the production chain: electrical engineer, mechanical technician, brazing technician and refrigeration engineer.
Through this partnership with IRUP, a leading school for work-study programmes, the Comeca Group is committed to training the young generation of tomorrow's industry professionals through work-study programmes that combine technical know-how and theoretical knowledge. The group's objective is to train future senior technicians in industrial maintenance and to support them in their professional integration by offering them employment prospects after obtaining their Brevet de Technicien Supérieur.
"In an increasingly challenging recruitment environment, we need to be innovative in order to attract the talents of tomorrow for our penurious professions. It is also a choice that is consistent with the Group's strategy, which focuses on the talents of new generations and on our Services activities."
Adèle Roux, Human Resources Manager


Find out more about Comeca Academy