The main challenges in the maintenance of electrical equipment in the food industry are to guarantee their service continuity as well as their availability. Regular maintenance and anticipation of failures can reduce costs without compromising the safety, reliability or performance of its systems.
What are our client's needs?
In the food industry, energy distribution is an essential part of good production management. Aging electrical installations consume more and more energy, have risks of untimely tripping and can cause incidents to property or persons.
The maintenance plan proposed by COMECA SERVICES focuses on 3 challenges:
The life extension of electrical switchboards aged 50 years, awaiting replacement in 5 to 10 years. Replacing obsolete devices or equipment gives a new lease of life to the switchboard. Their recycling enables the availability of spare parts when needed.
Reduce failures that lead to plant shutdowns and high curative maintenance costs.
Increase the available supply in order to reduce downtime. In case of electrical failure, on this type of old switchboards, the fixed part was often damaged. Its restoration required a complete shutdown in order to continue using the equipment. The electrical switchboard is saturated in terms of available space - lack of Unequipped Reserve or reserves (lack of fixed and movable part).
The electrical switchboard and components audit
An audit of the low-voltage switchboard enables detect obsolete, used, or defective parts or equipment. It identifies points of attention and switchboard parts that may need to be optimised for better performance.
Thanks to our expertise as original manufacturer and our experience, we advised our client on:
potential risks
possible improvements
most suitable technical solutions
Meet the customer's needs with a maintenance plan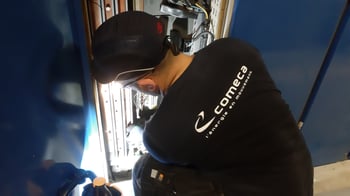 After the audit, we defined and prioritised different actions to performe with our engineering team:
Replacement of incoming circuit breakers with protection settings according to new calculation notes integrating installation evolutions.
Replacement of power connections on moving and fixed parts (avoid overheating and the risk of fire).
Replacement of branch busbar supports to strengthen the short-circuit current resistance (Icc).
Replacement of top bands with ventilation vents for better heat dissipation from the main busbar at full power.
Implementing Gemstart 5 protection relays on sensitive production feeders (anticipating shutdowns with predictive maintenance).
Following the audit, we defined and prioritised various actions to be carried out: Add a Busbar bridge with an extension of new cells LIBERTY 333 type to relieve the existing switchboard. In case of incident, the customer can quickly move his power cables.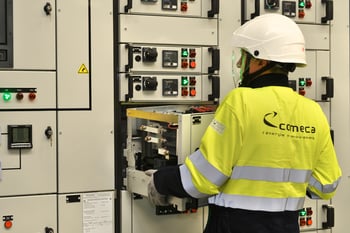 Maintenance plan was based on the renovation of the equipment in order to, reduce curative maintenance costs, improve safety, increase reliability, extend the life of its installation from 5 to 10 years and replace obsolete or defective equipment (retrofit of 5 Circuit Breakers and revamping of 380 drawers of the TIRATOLE range).
Maintenance contracts allow our industrial customer to better manage its electrical switchboard maintenance costs and to smooth them over several years (4 to 5 years).
Advise client to help him quantify and anticipate his maintenance needs
Within our interventions, we advise our customers on tools and methods such as CMMS computer-aided maintenance management, which help the maintenance manager to detect areas of progress that will quickly enable him to move towards optimised practices.
This tool is an assistance to define, plan and monitor the implementation of maintenance operations:
Define preventive maintenance tasks (lubrication, cleaning, checking/replacing parts)
Define frequency of preventive maintenance (in number of operating hours, year or switching cycle)
Stock management (define the parts to be stored, the minimum quantity, the maximum quantity)
Monitoring number of failures per year (minor and major failures)
Monitoring of downtime.
To reduce maintenance costs, it is necessary to drastically reduce the costs of curative maintenance. Well equipped, COMECA SERVICES customers anticipate actions to be carried out on their low voltage switchboards and the maintenance services we provide are more efficient.