The DemoBox is designed to incorporate functionalities of the GemStart5 motor protection relay in complete safety. All the components of a motor feeder and the means allowing to simulate, upwards or downwards, currents, voltage, temperatures, are housed in a single case.
It is equipped with numerous controls to reproduce the plant and drawer schematic. The product communication port is also available for testing. Only one power outlet to connect and everything is operational!
A training tool for your teams
The first use that comes to mind when talking about the GemStart5 DemoBox is training. It is indeed the first use for COMECA during training on customer sites.
Having a DemoBox for GemStart5 makes it possible to safely educate new recruits before they are in the operational context. It also allows everyone to improve, at their own pace, the handling of GemPro software or the so many features of GemStart5.
It is therefore an internal training tool, even a distance training tool, which will allow you to maintain your knowledge, to develop it but also to validate the skills acquired by operators.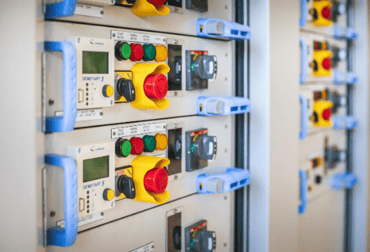 A test tool for new settings or configurations
The DemoBox is used daily to test and validate new settings or a new operating mode that would be difficult to test on the MCC during production. In the office, calmly, the DemoBox associated with GemPro software makes it possible to ensure that the new configuration is in accordance with a new electrical schematic or an adaptation from which the process will benefit.
It reproduces the operation observed on site and facilitates the identification of solutions and optimizations to be implemented. The DemoBox allows you to test all the product's functionalities without electrical risk, without risk for the process. Its use is safe and eliminates the use of a drawer or a sub-assembly outside the switchboard where the operator could be exposed to dangerous voltages and the possibility of electrical contact. This will not happen with a DemoBox.
You can also share the DemoBox with control engineers or IT specialists in charge of process management to allow them to do their communication tests and validate their softwares as well as the control displays.
Finally, the Demobox allows you to make copies of PAMM or to archive the content of these parameters via GemPro.
The content of this very practical tool can be adapted on request, we can for example provide the DemoBox with an MCU or a touch pad, these components are provided in a foam structure of the cover of the suitcase.
Distance learning assistance
In the current context, here is a solution to allow distance training, we can even imagine in the near future the launch of webinars dedicated to our GemStart range and whose exercises will be performed on the DemoBox.
Do you want to discover the DemoBox before buying it or have one temporarily? Contact us and we will organise its rental on a weekly basis: