Comeca presents TITAN LV switchboard at Data Centre World 2022
This year, Comeca's teams had the chance to participate in Data Centre World, which took place on 16 and 17 November at the Porte de Versailles in Paris. We took the opportunity to present our original TITAN low voltage switchboard, certified to EN-NF 61 439 with LEGRAND equipment.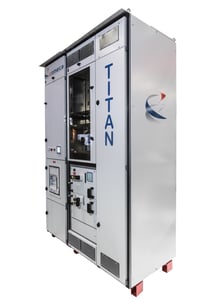 Data Centre World is a leading event for data centre professionals. It takes place every year in Paris, and attracts visitors from all over the world.
The TITAN low voltage switchboard is designed to meet the safety and reliability requirements of data centres. TITAN is a versatile and adaptable switchboard that fits perfectly into cramped electrical rooms thanks to its optimised dimensions. It can be upgraded throughout its lifecycle and allows functional unit mobility indexes to be mixed.
We were delighted to share our expertise with visitors to the exhibition, to meet the many experts in the sector, to discuss with them the ever-changing needs of data centres and to provide the right answers with our innovative solutions and services to installed bases.