Comeca France QUALIFOUDRE certified
The risk of damage is high when lightning strikes nearby or on a building whose equipment is not protected against lightning. To protect against this, it is necessary to install a lightning arrester in the electrical panel.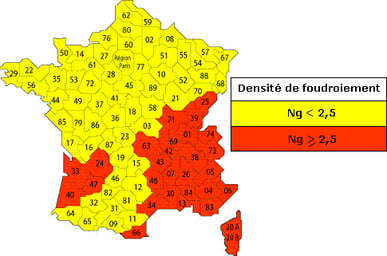 In the event of a lightning strike, the arrester allows the current to be evacuated to earth to prevent it from spreading throughout your installation.

In France, the number of lightning strikes hitting the ground is around 1 million per year. But not all areas of France are impacted in the same way (see map with Lightning strike density)
QUALIFOUDRE certification: don't let your installation be affected by the climate
The QUALIFOUDRE brand identifies the companies competent in the field of lightning. It is awarded since 2004 to manufacturers, design offices, installers and auditors of protection installations. The QUALIFOUDRE label enables lightning professionals to meet the regulatory requirements of the Order of 4 October 2010 amended by the Order of 19 July 2011.
Comeca France and QUALIFOUDRE

A QUALIFOUDRE-labelled manufacturer offers products that comply with current standards and assists its customers with any technical implementation problems. Qualified company personnel have a personal authorisation issued by their employer. This implies an initial training of an appropriate level, additional training specific to the missions entrusted and sufficient experience. The qualified company has set up a quality assurance process aimed at customer satisfaction and ensures the traceability of its work.
COMECA France, Original Equipment Manufacturer of low voltage divisional and general electrical switchboards received from INERIS the Qualifoudre approval for two of its sites in France. After an audit of working methods, staff qualification and training as well as of the "quality management system", INERIS issued Qualifoudre complex level approval N° 1323136962136 to the COMECA France factories in Châtenoy-le-Royal and Angers.
A protection available on our range of new and installed switchboards
COMECA France offers the service of study and installation of surge arresters in all its ranges of new switchboards but also in its installed switchboards Galaxis, Normabloc, Evodis or for DSF4 in its former workshops in Nantes. COMECA engineers studied and created the best installation systems for the columns of the brand's electrical switchboards.

Our IS333 lightning arrester mounting solution is unique and validated by INERIS: more than 25 pluggable or connectable solutions designed for on-site installation.
COMECA solutions against the dangers of lightning strikes
The addition of lightning arrester equipment as a connectable solution in a drawer slot with or without cut-out
The addition of a lightning arrester in the box of an incoming column with very short interruptions
The addition of fixed lightning protection equipment (with cut-off and intervention)
Annual regulatory verification of surge arresters
Support in the analysis and study of specific solution
Our services include the study, personalised design and installation of the protection which ensures the continuity of the manufacturer's guarantee.
Our commitment at your side enables you to meet the regulatory requirements of the decree of 17 January 2008 imposing the effective installation of protection means since 1 January 2012 as well as their annual verification.