Anticipating risks on production lines is essential, for the safety of the personnel as well as for the company's activity. The consequences of a shutdown are many and varied. They can be products that do not conform to the initial order, delays resulting in heavy penalties, or exposure to accidents for technical staff.
Even if production shutdowns are planned, they remain complex and expensive projects. An unexpected situation can arise at any time and no industry is immune. Planning is impacted and start-up is delayed. An extra day of production stoppage can result in a loss of several million euros.
1. Financial losses
When the production line stops, the whole business is at risk. Among the companies that have experienced a stoppage of their production line in 2014, more than a quarter of them cite losses of at least €1 million per incident. The biggest losses peak at more than 50 or even 100 million euros per incident.
In addition to the direct financial consequences, interruptions in the production chain also cause :
a loss of company productivity in 58.5% of cases,
an increase in the cost of labour in 47.5% of cases,
a loss of income in 44.7% of cases,
customer complaints in 40.6% of cases,
a negative impact on the company's image in 34.6% of cases,
a cash flow problem in 34.1% of cases.
Source: Study conducted in 2015 by the Business Continuity Institute
2. Environmental risks
Production shutdown could have a more or less lasting effect on the natural and human environment around the place of production. Its reputation, and therefore its value, may suffer sustainably.
Risk activities are those that may damage the natural environment (air, soil and groundwater and/or surface water pollution; destruction of species and natural habitats), human integrity (health and safety of employees, the company's neighborhood, users of products and services), or olfactory, noise and/or vibration pollution. For example, unplanned stoppage of the operation of a wastewater treatment plant can cause discharge of toxic substances and thus pollution of soil and rivers.
3. Industrial consequences linked to processes
Industrial manufacturing processes sometimes require continuous operation and cannot be stopped. In agro-food sector, the manufacturing process is sensitive to production interruption. For example, the production of pasta cannot be interrupted for too long, substances can freeze, harden, inside machines which implies a cleaning intervention, or even a complete change of this equipment.
Other processes need to ensure essential conditions for their operation: ventilation, temperature, a cooling system (nuclear cooling tank) or for rooms under overpressure (virology clean room) to avoid major risks.
4. Need for an Emergency Power System
Power failure of the systems causes urgent need for a back-up system. The search for a service provider and the availability of solutions further lengthens the downtime. Some industries are anticipating this situation and are equipping themselves with generators. It is also possible to rent mobile stations (shelters), all of which further increases the cost of production downtime.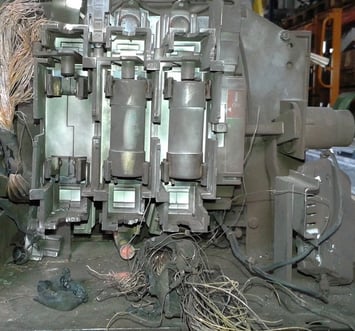 Picture of a panel that had a heating defect due to a bad connection which generated an internal arc.
5. Layoffs for operational reason
Downtime will obviously have a direct impact on workers who can no longer produce or who are no longer in optimal safety conditions to work. Another consequence that has a direct causal relationship with the cost of a production shutdown, whether it is planned or not.
To sum up, the consequences of a production stoppage are multiple and affect the economic part of the activity very significantly. The 5 consequences that we have listed:
Significant financial losses: the first consequence of a production interruption, whether it is planned or following an incident.
Environmental risks related to the discontinuation of risky activities
Industrial processes that are sensitive to production stoppages and that consequently will suffer failures.
The need for an emergency power system to ensure operation
Layoffs on top of the financial loss