What are we talking about when we talk about maintenance costs? It is the global cost of preventive or corrective maintenance interventions to which we add the cost of maintenance reports, the cost of equipment failures, the cost of maintenance stocks as well as the depreciation of investments in spare parts dedicated to maintenance.
Preventive maintenance aims to reduce the probability of failure during the use of an equipment (ensuring service continuity) and to extend its lifetime. It also protects against curative interventions in "firefighter" mode, which are often carried out during difficult hours and days. Preventive maintenance is performed in serene and planned conditions. The maintenance manager must meet a double challenge: to carry out maintenance while minimizing the overall cost.
1. Poor anticipation of failures: the cost of unanticipated maintenance operations
Corrective maintenance is performed after a failure is detected and is intended to restore an asset to a condition in order to perform its required function. Corrective maintenance in breakdown has a high cost:
In case of a production stoppage
n the absence of available spare parts, an emergency supply of spare parts is required. Negotiating the price of these parts is much more complicated.
In case of transport and express delivery.
In case of technician mobilisation in emergency .
👉 to know more on this subject, read our article
2. Lack of anticipation of the obsolescence of your electrical switchboards: leads to curative maintenance linked to the failure of spare parts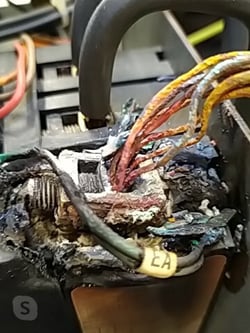 Equipment is obsolete when there are no more spare parts. In the event of failure of this equipment, you have to find a replacement with an adaptation to be carried out.
We already mentioned a few reasons in our article 👉
Photo: Circuit breaker overheating - obsolete equipment
3. Lack of an annual maintenance budget: monitor expenses as closely as possible to spread them out over time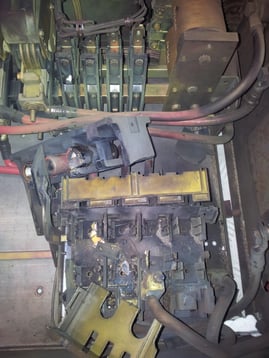 Preventive maintenance performed at predetermined intervals or according to prescribed criteria is intended to reduce the likelihood of failure or degradation of an asset's performance.
Without anticipating his switchboards maintenance (through preventive maintenance), the maintenance manager undergoes maintenance directed by his switchboard's failure. Letting this failure choose for him causes irregular expenses and unplanned production stoppages, potentially several times a year.
A well-maintained, and therefore functional, fleet of equipment guarantees an efficient process within your company.
Your manufacturer offers you a maintenance contract adapted to your needs and objectives.
Photo: Fire start on a fuse switch - obsolete equipment